Sanitation practices play a vital role in the food service industry. Restaurants must take careful precautions to ensure food is prepared properly and served safely. Along with following safe serving procedures, restaurant sanitation requires a lot of maintenance. Linen services can assist in this burdensome maintenance and improve the overall efficiency of your restaurant.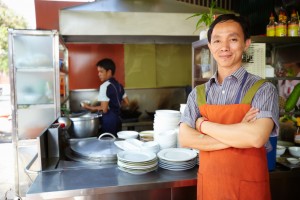 Restaurants benefit from linen services in many ways. Linen Services save time, money, and manpower. The amount of time it takes to properly clean tablecloths, napkins, aprons and other linens utilized in a restaurant is very difficult to manage in-house. Renting linens will also save your restaurant money by avoiding upfront costs. In the end, you will have more man power set aside that can be put to better use elsewhere.
Not only are linen services economically efficient, but they also ensure that restaurants always have fresh, clean linens to work with. Linen services keep track of inventory so that you can always depend on the exact number of linens expected.
At Republic Master Chefs, our uniforms have passed USDA standards and are of the utmost quality. Republic Master Chefs offer tablecloths, aprons, kitchen towels, and more. Whether you own a chain of restaurants or a bed and breakfast, Republic Master Chefs has what you need. Our experts at Republic Master Chefs will match your restaurant with top of the line linens best suited for your establishment.
Leave the hassle of linen maintenance up to the experts at Republic Master Chefs. For a free quote on our high-quality restaurant services, you can reach us at (323) 735-1661 or on our website republicmasterchefs.com. Our representative will be able to provide you with an estimate on our services, as well as answer any questions you may have.