There's no room for subpar robes, sheets and towels in your business! For linens and garments you can proudly display with your brand name, trust only the linen and garment service provider that will absolutely deliver: Republic Master Chefs!
Republic Master Chefs is the authority on hospitality and food service linen and garments, and we have an impressive selection available for your business.
The Ultimate Hospitality Linen Selection
Stock up on your basics and specialized garments from our hospitality selection. Each item has been handpicked for outstanding aesthetic quality and even better durability. These items come in a range of styles, colors, sizes, and materials to  meet your needs, all guaranteed to come in the quality that will measure up to your highest standards.
Republic Linens and Garments for All Kinds of Hospitality Businesses
Republic Master Chefs offers rental and laundry services for various linens and garments for all kinds of businesses in the hospitality industry:
Hotels and Motels
Dormitories
Serviced Apartments
Spas
Salons
Massage Clinics
Rehabilitation Facility
Resorts and Country Clubs
Republic Master Chefs: Quality for All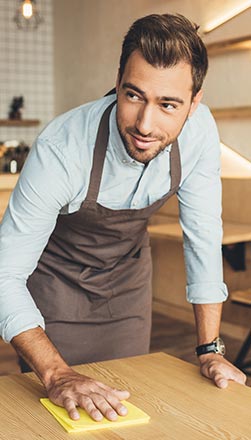 We have some of the largest and best selection of linens, uniforms, and facility service products in Southern California.
When you work with Republic Master Chefs, you get the guarantee and advantage of service and product quality built on eighty years of experience in the industry, improved by eco-friendly and efficient technology to get the best results suited for your specific needs. More than that, you get the commitment to customer satisfaction and dedication to excellence that remains unmatched anywhere within our Southern California service areas.
There's only one way to get the best linens and garments for your hospitality business: Republic Master Chefs! Get started on the big hospitality linen overhaul for your business today – contact Republic Master Chefs at 800-640-2433 to speak to our consultants!
All of our services begin with a FREE consultation to make sure that we know exactly what you need, and you know what we can offer you.