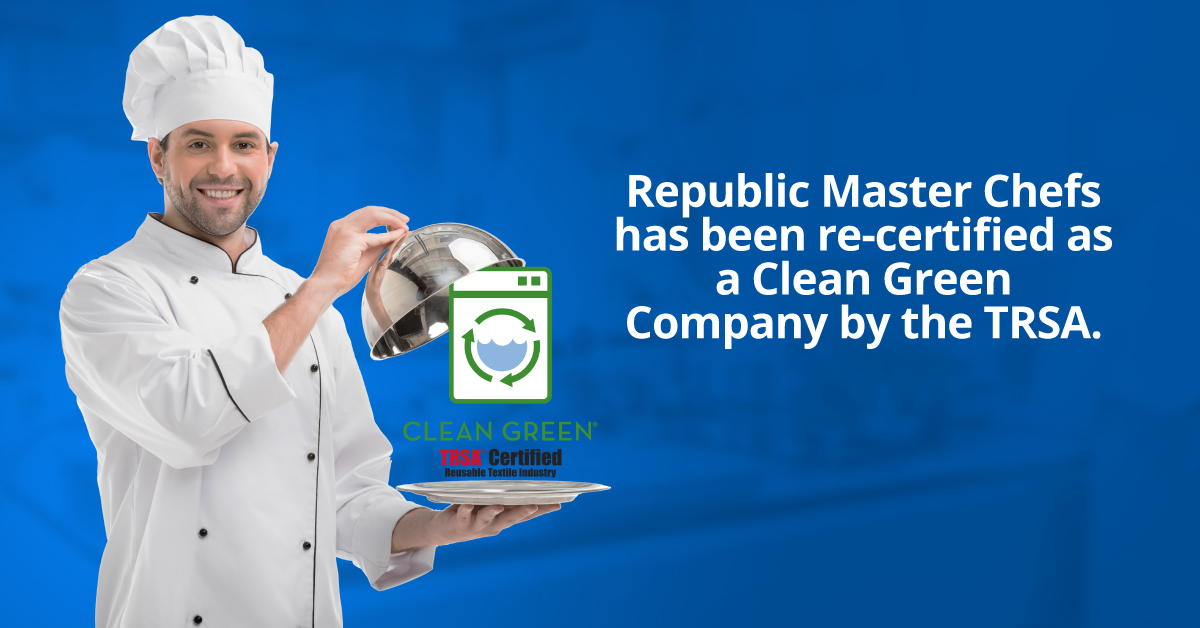 Plenty of commercial laundries will say that they are trying their best to save water, energy, and reusable materials while providing necessary services to customers. We, on the other hand, go one step further to show our customers that we really do care. Republic Master Chefs has just been re-certified Clean Green by the Textile Rental Services Association (TRSA), demonstrating our commitment to a more sustainable future.
The Clean Green certification "recognizes companies that demonstrate responsible leadership in sustainability and conservation by acknowledging commitment to improving water and energy efficiency and adoption of best management practices for reusing, reclaiming and recycling resources."
In order to be recognized by the TRSA, we documented the ways in which we reduce water and energy use and deploy best management practices like:
Reclaiming heat from warm water used in laundering

Saving drained water from rinses to be reused

Implementing recycling practices

Using laundry detergents that are environmentally friendly

Creating delivery routes that conserve fuel

Installing energy-saving lighting
Our re-certification demonstrates that we're not just one and done when it comes to our green initiatives. We're committed to constantly re-evaluating our laundering process to find more ways to save water, energy and materials for the good of our local communities and the good of the planet, without cutting corners when it comes to the quality of our services and products.
Here are some of the business types we can service:
Restaurants

Fine Dining

Food and Beverage

Country Clubs and Resorts

Catering

Food Processing
Get a little greener by working with Republic Master Chefs for your restaurant linen and uniform services! By partnering with companies that are working for a more sustainable future, your business becomes more sustainable too.
To learn more about our Clean Green standards, our services and our products, contact Republic Master Chefs today! We have a wide variety of restaurant linen and uniform products that can meet the needs of any food service business. To get a free quote, call us at 800-640-2433 or fill out our online contact form.